Debbie Nedelak was a wife, a mom, a sister, and a friend to many people in our community.  Her mantra was, "live, love, laugh". She was passionate for life, always the life of the party, and had the innate ability to make anyone laugh.  On Wednesday, November 6, 2019 at the age of 63, Debbie passed away at Peace Arch Hospice.  This was following two diagnoses with breast cancer and a later diagnosis of brain cancer, all of which spanned two decades.  Throughout those years, Debbie endured chemotherapy, radiation and countless procedures as she courageously fought the disease.  Deeply loved and respected by so many in this community and beyond, her legacy of unwavering spirit, generosity, kindness, and exceptional humour cannot be captured in a few words.
In honour of Debbie's life, her husband Jim and her son Jody created the Debra Nedelak Memorial Fund and have raised over $20,000.00 in the past year.  Graciously, they are donating $20,000.00 to Peace Arch Hospice Society after receiving such exceptional compassionate care and grief support during the most difficult time in their lives.
This giving season, we are seeking to match this generous donation by raising another $20,000.00 to double the impact.  By generously donating, your gift will help families like the Nedelaks by ensuring our professional programs and services remain free of charge and therefore accessible to everyone in our community.
The first 50 donors who donate $200.00 or more to this campaign will be gifted a limited edition original numbered print of "Generations of Hope" signed by artist, Jim Nedelak.  Jim wanted to do something to honour all women who have fought breast cancer and for those who continue to fight, so Debbie encouraged him to draw a picture.  The result was his beautiful drawing titled, "Generations of Hope", depicting three generations of a family – mother, daughters and grandmother.  He chose to include a splash of pink on each of the ladies, and the faint pink ribbon in the clouds in honours of all women who have battled the disease.
"Generations of Hope"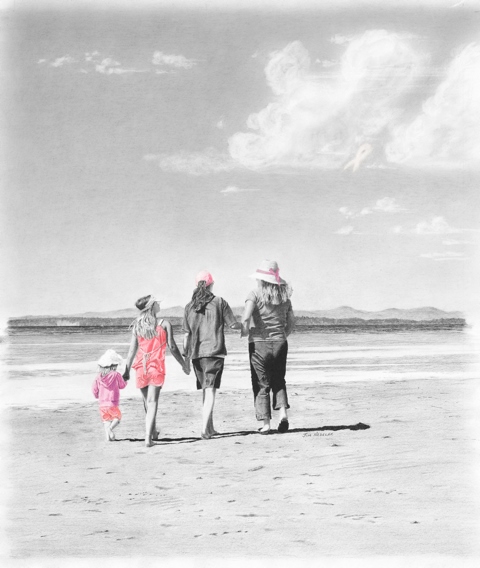 Medium: Charcoal and coloured pencil
Size: 16" x 20"
Date: December 2007
To donate to this campaign, please click here and select the Debbie Nedelak Direct Mail Campaign from the dropdown on step 2, or you can call 604-531-7484 to donate over the phone.
If you have any questions, please email Emiko at emi@pahospicesociety.org or you call her at
604-531-7484 ext. 113.