Beth Kish

Executive Director
Beth Kish accepted the position of Executive Director for the Peace Arch Hospice Society in 2014. She comes with several years of experience having been the Executive Director for the Surrey Hospice Society and the Foothills Country Hospice Society in Southern Alberta. Having worked and volunteered for several not for profit organizations, Beth has established herself in the community personally, politically, and through the successful evolution of her career. Working in support of Hospice care has been the most challenging and most rewarding of Beth's work and represents a hybrid of her experience and passion. Atop her resume though, is the most important role of Beth's life, which is her role as a mother to her two wonderful children; Wendy and Grant.
Trevor Josephson

Manager of Clinical Services
Trevor is a Registered Clinical Counsellor with an Advanced Diploma in Art Therapy. His belief in the healing power of an individual's personal imagination and creative spirit is affirmed daily through the work he does with children, youth and adults. Since 2012 he has been honoured to support individuals as they explore and express their innate potential for healing and growth in the caring and nurturing environment provided by the Hospice Society. Trevor's familiarity with Hospice work emerges from his mother who has volunteered with Hospice for 29 years in the community where he grew up. On weekends and evenings, he can be found happily benefiting from the experience of Play Therapy with his wife and young children.
Neeta Sai

Clinical Counsellor
Neeta is a Clinical Counsellor who joined our team in 2019.  She has experience in counselling children, youth and adults and also has additional training in trauma therapy, play therapy and couples counselling.  Neeta feels honoured to work in Hospice Care and has a strong passion to help others work through difficult times.  She has personal experience of two Grandmothers who have received hospice care.  During her free time, Neeta enjoys spending time with her husband and children.
Tricia Keith
Coordinator of Volunteers
Tricia joined our team in 2019. She comes to the Society with a background in the creative and healing arts as well as experience in Hospice Volunteer Coordination.  "Since 2013, I have had the privilege of working in hospice/palliative care settings at bedside with individuals and their chosen families as well as behind the scenes developing programs to meet their needs."  Tricia brings with her a love for nature, community building and transformational experiences.

Emiko Angus

Communications Coordinator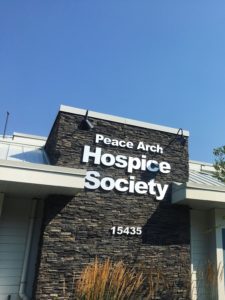 Admin Assistant

Marge Ramos (Contract)

Financial & HR Administrator

Jan Stadnyk

Director of Administration

Lindsay Barck

Thrift Store Supervisor

Joan Hunter

Thrift Store Supervisor

Astrid Obersat

Thrift Store Supervisor

Salwa Shami

Thrift Store Supervisor

Kim Williams

Thrift Store Manager